Frankincense & Myrrh Eau De Zum
SCENT PROFILE:
The sultry sweetness of earthy frankincense combines with rich scent of myrrh to make the perfect power couple.
PAIRS NICELY WITH…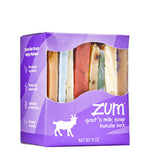 Zum Bundle in a Box
$9.95
Free Shipping On Orders Over $50*
WHY WE LOVE IT
Roll on the age-old scent of Frankincense & Myrrh based in natural jojoba oil. This whiffable cologne contains no alcohol or phthalates, so you can feel good about what you're putting on your skin. Eau de Zum plays well with your body's own chemistry for a singular signature scent.
*Frankincense products contain phthalate-free, paraben-free fragrance oil.
INGREDIENTS & MORE
Essential oils, fragrance oil, certified organic jojoba oil and vitamin E.
HOW TO USE IT
Give yourself a roll on the wrist or neck and prepare to smell great all day long!
PAIRS NICELY WITH…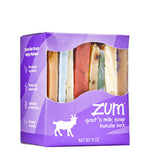 Zum Bundle in a Box
$9.95