1 lb. Bag of Assorted Lavender Soap
Assorted Zum slices of varying scents of Lavender-scented soaps.
SCENT PROFILE:
Classic lavender, sweet with balsamic undertones. Not too floral, not too zesty, it's just right.
PAIRS NICELY WITH…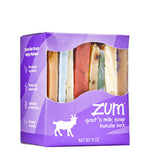 Zum Bundle in a Box
$9.95
Free Shipping On Orders Over $50*
WHY WE LOVE IT
Your body will get some tingling sensations with this one lb. bag of varying lavender-scented Zum goat's milk soap. These end cuts are just like regular Zum bars but different shapes and sizes.
HOW TO USE IT
Lather up in the shower or bath with a loofah, washcloth, or hands. Zum Bars also make perfect sinkside companions for natural skin hydration.
PAIRS NICELY WITH…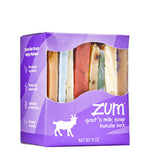 Zum Bundle in a Box
$9.95