Zum Bum
SCENT PROFILE:
A very subtle and refreshing aroma.
PAIRS NICELY WITH…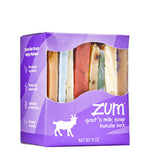 Zum Bundle in a Box
$9.95
Free Shipping On Orders Over $50*
WHY WE LOVE IT
Need to unfrump your rump? Zum Bum is the bidet in a bottle. Splash a dash on some t.p. and wipe those unfreshies away with this untainted product of witch hazel and essential oils. It's a breath of fresh derriere!
INGREDIENTS & MORE
hamamelis virginiana (witch hazel) water, alcohol, fragrance (essential oils), glycerin
HOW TO USE IT
Spray on toilet paper for that squeaky clean feeling. Zummer Tip: always bring a bottle of Zum Bum with you when traveling...let's be honest, we've all been there.
PAIRS NICELY WITH…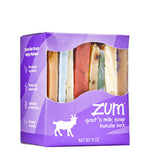 Zum Bundle in a Box
$9.95