3125 Zum Bar
plant-based goat's milk soap
SCENT PROFILE:
Woodsy, herbal and sweet - A mysterious blend of a multitude of essential oil scents; no two batches smell the same.
PAIRS NICELY WITH…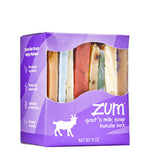 Zum Bundle in a Box
$9.95
Free Shipping On Orders Over $50*
WHY WE LOVE IT
Zum Bar Soaps are made from whiffable essential oil blends infused into olive, coconut, and castor oils, and goat's milk. Handcrafted with ingredients you can say, spell, and love to smell. A favorite ingredient, goat's milk, is a naturally homogenized, silky-soft moisturizer. It's full of the good fats that help your skin's pH levels lock in extra hydration. Boost your mood and try this 3125 Zum Bar Goat's Milk Soap.
*Zum Bars contain natural mineral pigments that may stain when rubbed directly on fabrics, washcloths, or clothing.
INGREDIENTS & MORE
Saponified 100% food grade olive, coconut, palm & castor oils, in a goat's milk base, with herbs, pure essential oils. Enjoy! Our unique blends may also include, dragon's blood infusion, fragrance oil, vanilla infusion, natural almond fragrance, or mineral pigments.
HOW TO USE IT
Lather up in the shower or bath with a loofah, washcloth, or hands. Zum Bars also make perfect sinkside companions for natural skin hydration.
PAIRS NICELY WITH…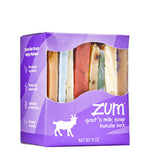 Zum Bundle in a Box
$9.95