Zum Bar Soap Sliver Bag
SCENT PROFILE:
Assorted Top Selling Scents.
PAIRS NICELY WITH…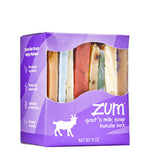 Zum Bundle in a Box
$9.95
Free Shipping On Orders Over $50*
WHY WE LOVE IT
Enjoy 7 ounces of assorted Zum Bar Soap Slivers packed in a black bag, perfect for travel! Each sliver is approximately 2.75 x .25 x 1".
INGREDIENTS & MORE
Saponified 100% food grade olive, coconut, palm & castor oils, in a goat's milk base with essential oils. Our unique blends may also include herbs, coffee grounds, seaweed, dragon's blood infusion, vanilla infusion, natural almond fragrance, or mineral pigments. *Frankincense & 3125 Zum products contain a small amount of phthalate-free fragrance oil.
HOW TO USE IT
Lather up in the shower or bath with a loofah, washcloth, or hands. Zum Bars also make perfect sinkside companions for natural skin hydration.
PAIRS NICELY WITH…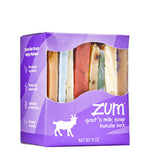 Zum Bundle in a Box
$9.95