Surprise Me! Laundry Soap Sample
aromatherapy laundry soap
SCENT PROFILE:
The sultry sweetness of earthy frankincense combines with rich scent of myrrh to make the perfect power couple.
PAIRS NICELY WITH…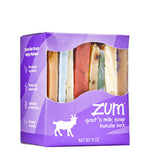 Zum Bundle in a Box
$9.95
Free Shipping On Orders Over $50*
INGREDIENTS & MORE
water, potassium cocoate (saponified 100% coconut oil), sodium bicarbonate (baking soda), fragrance (essential oils & fragrance) and glycerin (vegetable glycerin)
HOW TO USE IT
Pour entire sample pack into washing machine with clothes, sheets, or towels. For best aromatic results, wash on cold and dry on low heat. For extra post-wash whiffs, toss Zum Wool Balls in when it's time to hit the dryer.
PAIRS NICELY WITH…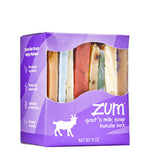 Zum Bundle in a Box
$9.95